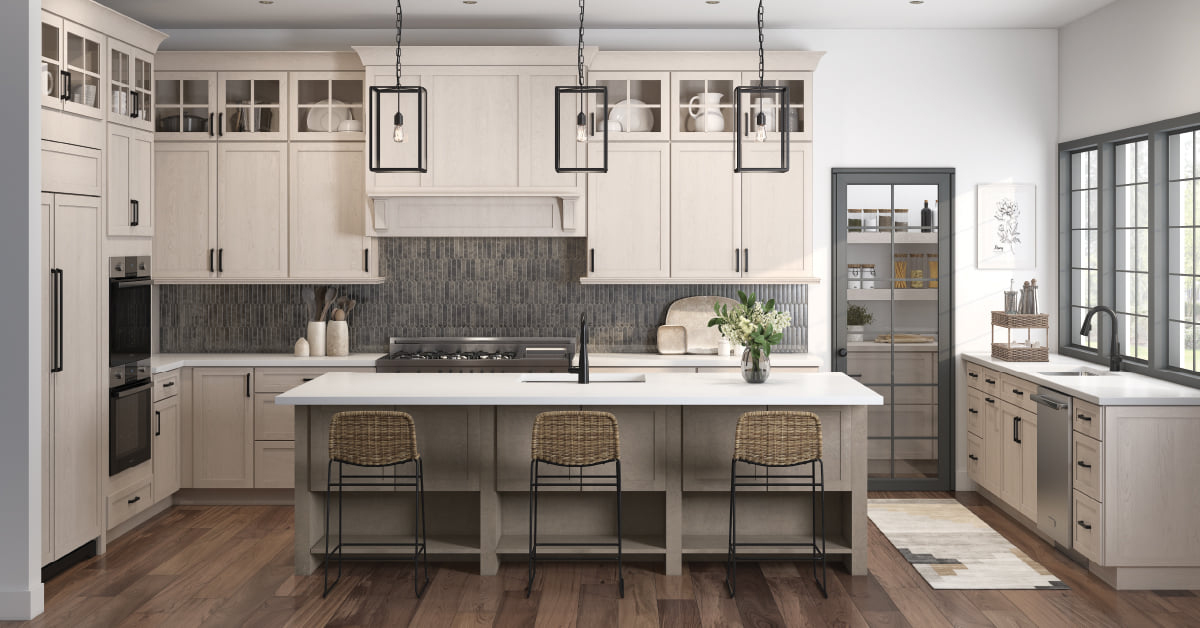 04 May

5 Signs Your Kitchen Cabinets Need Updated

Your sense of style reflects throughout your home, especially in the heart of your home- your kitchen. Normal wear and tear take a heavy toll on your kitchen cabinets. And growing families often run out of storage space in their kitchen, even for everyday items. Age can show on your kitchen cabinets as well and nothing depreciates the aesthetic of a kitchen than worn out or out of date cabinets
Do Your Kitchen Cabinets Need an Update?
If you're like most homeowners in the Quad City area your kitchen is the busiest room in your home. Most families congregate in the kitchen to cook, eat, clean, chat over a cup of coffee or take turns raiding the refrigerator. Guests often end up gathered around the kitchen table or meander in to stand at a counter and catch up. With all that goes on in your kitchen your cabinets may require a facelift. Here are some signs your kitchen cabinets need an update.
Lack of Function
Are your cabinets just not doing the job anymore? Are they misaligned? Do the drawers shut properly? Is it difficult to access your everyday items like dishes and pots and pans? Lack of functionality in your is a sign your kitchen cabinets need an update.
Damaged Kitchen Cabinets
Are your cabinets damaged? Do your doors close smoothly or are the hinges sprung? Do you see visible cracks, stains or other signs of overuse? New kitchen cabinets will change the entire appearance of your favorite room. Form is just as important in your kitchen as function. If you notice any damage to your cabinets then so do your guests. It's time to give those kitchen cabinets the update they-and you-deserve.
Outdated Cabinets
The focus of your kitchen, and what guests see before anything else, is your cabinets. Beautiful cabinets set the aesthetic for your entire home. But, alas! Like anything else in your home or closet there are trends and styles that fall out of fashion. If your kitchen cabinets are obviously from another decade then it's time to replace them. Besides the wear and tear that is likely obvious even if you don't see it, cabinets that are more than ten years old are outdated. Jump on the latest trends or consider an upgrade to a classic style. Seiffert Building Supplies offers homeowners in the Quad City area a full selection of beautiful, durable trendy or classic cabinet styles.
Cluttered Countertops
Do your countertops hold more of your kitchen necessities and items than your cabinets? Certainly there are items you use everyday like your coffee pot, but if you keep your pots and pans handy so you don't need to go on a quest to heat up some soup or you have nowhere to stow your small appliances like your food processor or toaster, then your kitchen cabinets  absolutely need an upgrade. Having a place for everything and everything in its place means your counters are clear and ready for meal prep, baking or whatever you need. Once you upgrade to deeper drawers, organizable cabinets and storage that makes sense you'll wonder why you waited so long.
You've Outgrown Your Cabinets
While cluttered counters are a sign of unmanageable storage they can also reflect your growing family's need for more cabinet space. A lack of cabinet space isn't typically an issue in your first home. In fact a smaller kitchen might mean you avoid accumulating those items you really don't need. But as a family grows so does their need for more "stuff". If you find your possessions relocated to an "offsite" area such as the dining room table, garage or basement then your cabinets need an upgrade. How convenient would it be to have all of your kitchen necessities in one room, stored within reach?
Let Us Help You Update Your Entire Kitchen
Does it sound like your kitchen cabinets need to be updated? Don't put it off one more day! Our professional design team is available to help you decide on the right kitchen cabinets to reflect your busy lifestyle. We have a full selection of beautiful and stylish cabinets and countertops that are as lovely as they are durable.
Schedule a Kitchen Consultation