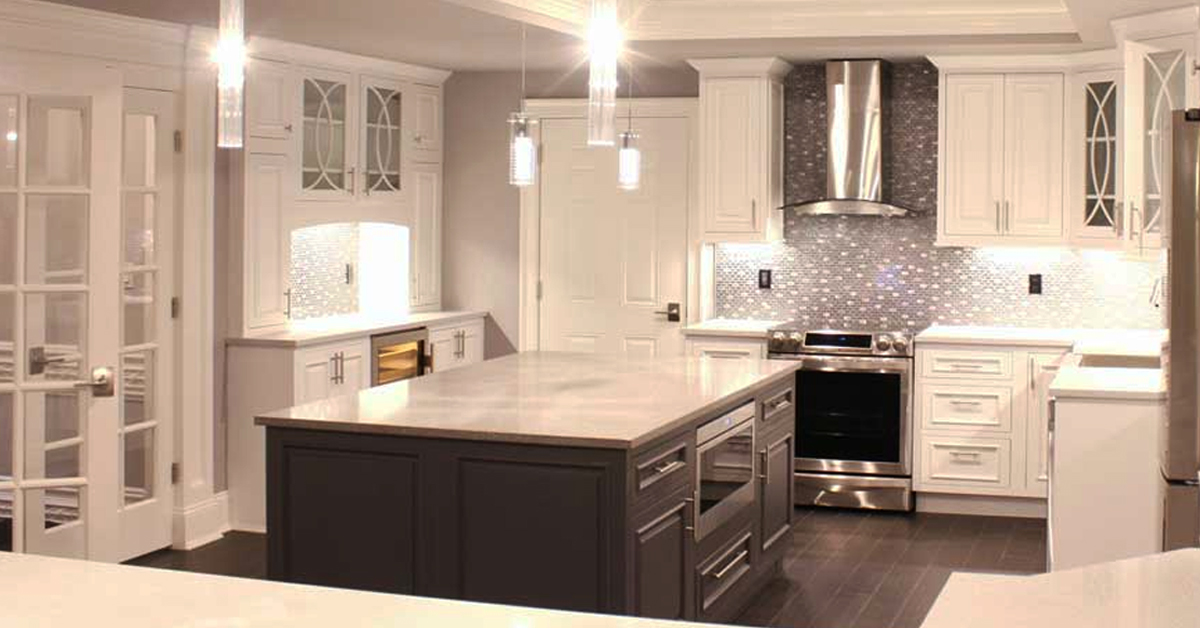 06 Jan

Standard Cabinets Vs. Custom Cabinets: What's Right for You?

Kitchen cabinets are an integral component of any kitchen remodel. Today's selection of standard cabinets and custom cabinets is pretty incredible. You can opt for standard cabinets or semi-custom cabinets and find some very high-quality choices. Of course if you really want to elevate your kitchen's appearance and storage capability, or if you have some unique ideas for style and function, custom cabinets are absolutely the way to go. 

Feeling overwhelmed? Well, before you get confused let us help you by breaking down just what the terms standard, ready-to-assemble, semi-custom and custom mean. We'll provide all the details to help you decide which option seems a good fit for your kitchen renovation.
The Details of Standard Cabinets, Semi-Custom and Custom Cabinets
The first thing you should understand when talking about standard cabinets, custom cabinets and everything in between, is that these terms refer to the production methods used to create the cabinet and not necessarily the quality of the cabinets themselves. Here are some additional things to consider when deciding on standard cabinets, ready-to-assemble, semi-custom or custom cabinets.
Standard Cabinets, Ready to Assemble and Stock Cabinets
Used somewhat interchangeable, standard cabinets and ready-to-assemble (RTA) refer to pre-built and mass-produced cabinets that are ready to ship on order. They come in standard sizes only and are either modular, meaning already assembled in one piece, or RTA. You (or your contractor) will put them together at their destination (your home). 
While the selection is relatively limited as far as wood type, color, style and shape the quick delivery is an advantage. If you aren't in the market for anything too ornate, or in need of customized sizes, shapes, etc. then standard cabinets could work for you. With a standard width starting at 9" and going up to 48" (in 3" increments) and a depth of 12"-24" these RTA and stock cabinets seamlessly fit into the scheme of most kitchens.
Semi-Custom
The semi-custom option offers basic stock cabinets but with a number of customizable detailing selections. Adjustment options and modifications are not as near-endless as custom cabinets. However homeowners may make changes to the standard-type options in areas such as depth of drawers, door facing and dimensions such as depth. Semi-custom options also allow a bigger selection of design. They come in standard width of 9"-48" but offer 1" increments instead of the 3" for standard cabinets and RTA. 
The homeowner makes custom selections for certain cabinet features. Because of that semi-custom cabinets may take as long as two months or more to arrive. For those working with a bit of give in their timeline semi-custom cabinets are an excellent option.
Custom Cabinets
For the Quad Cities homeowner who really wants to elevate the quality and style of their home custom cabinets make that statement and more. Unique style, personalized upgrades, endless modification options ensure your custom cabinets are as individual as you. Reflect your design and express your style when you install custom cabinets in your kitchen. The sky is the limit.
The customized options are easily suited to create more functional storage. There are so many options available to integrate your family's needs when it comes to organization and storage. You can select customized built-in drawer organizers, produce bins, refrigerated drawers and/or heated drawers. You can add pull-out shelving, cabinet dividers to store your platters and baking sheets and specialized "blind corner" pull out storage for those hard-to-reach spaces. And that's just the begin ing of what you can do when you choose custom cabinets for your kitchen. 
As you might assume, once you've determined all of your design specifications your custom cabinets take awhile to create. Expect delivery time to be a few months or more. Some cabinets are built in the workshop and finished on site, others are completely made to your specifications in shop.
Professional Service and Endless Options
Standard , RTA, semi-custom and custom cabinets are also available for bathroom upgrades. For those Quad Cities homeowners remodeling the kitchen or updating a bathroom Seiffert Kitchen & Bath is your go-to source for standard cabinets, RTA, semi-custom and custom cabinets. We have a selection of affordable, high quality cabinets sure to suit your unique style and needs. Contact Seiffert Kitchen & Bath today and let us help you design your dream kitchen or bathroom.