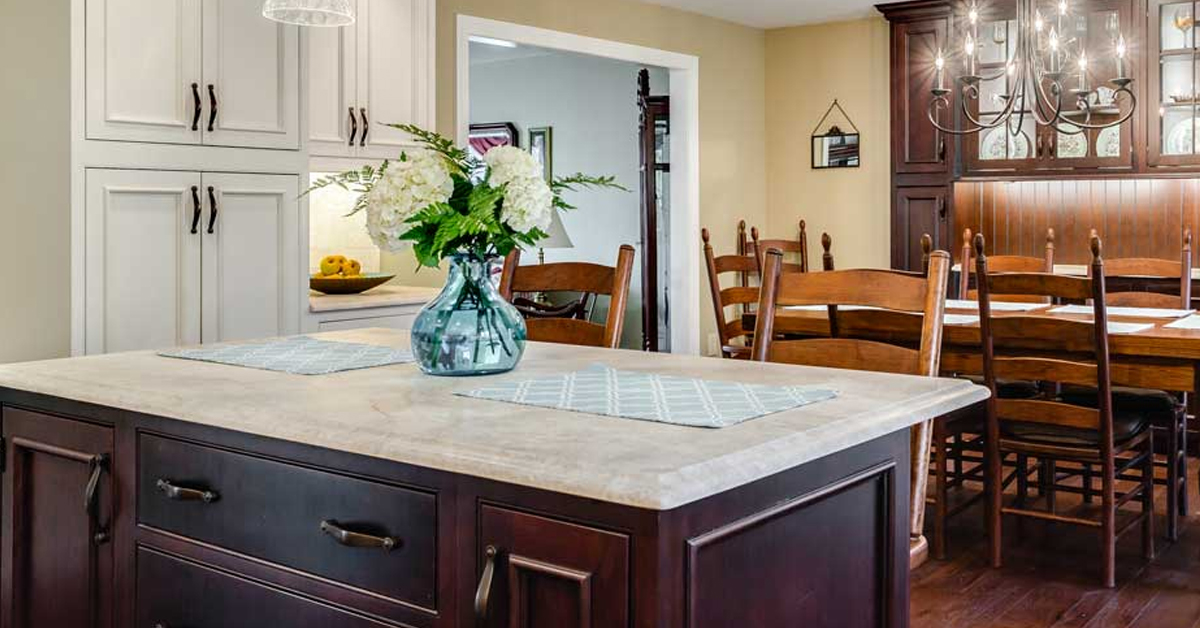 25 Nov

8 Tips For Adding a Functional Kitchen Island

Adding a functional kitchen island changes the heart of your home in so many ways. All without altering the structure, in most cases. A functional kitchen island provides more workspace, storage and seating just to name a few advantages. Here are eight tips for adding a functional kitchen island to your home and reaping the rewards immediately.
1. An Area for Seating and Eating
In many homes the kitchen island takes the place of the dining table. Adding a functional kitchen island for seating and eating makes the most of a smaller kitchen and helps you take advantage of a kitchen with a little more space. 
A very versatile and multi-functional island is the dual height island. This allows an elevated eating area and, on the other side, a prep area. Your guests can keep company while you prep the meal or the kids have a place to enjoy an after school snack or do their homework while you get dinner ready on a busy weeknight.
Extend your eating area when you add a functional kitchen island with a dual height island. Make sure there's a recessed area beneath for comfortable stool or chair seating. 
2. Double Your Storage Space by Adding a Functional Kitchen Island
With proper planning adding a functional kitchen island will really boost your storage space. Of course the inside of your island is where you'll store those everyday accoutrements that make meal prep a breeze, but the exterior side of your island allows you to store those items you use for times like holidays or when you entertain. You could even incorporate shelving at either end of your island for cookbooks or spices. Everything is within reach yet stored away and organized. Adding a functional kitchen island is a wonderful way to increase the storage in your small kitchen without the time-consuming hassle of a major renovation. 
3. Outlets Galore
Many building codes require your island have an electrical outlet. But, you don't necessarily need to stop at one outlet. Add extra electrical outlets to your kitchen island to ramp up the functionality. Use the outlets or your kitchen mixer, a coffee station or any appliances that aid in meal prep or cooking. And these days we all need all the outlets we can get to plug in phone chargers and keep our devices ready.
4. Adding a Functional Kitchen Island and Additional Refrigeration
Do you want to provide your family with an easy access way to grab a cold drink or a snack without disrupting your workspace? Add a refrigerated drawer or a small beverage fridge on the exterior of your island. For a single-sided island place a small refrigerator toward the end for minimal intrusion. When entertaining, guests can get their now beverages without disrupting any food prep.
5. Out of the Way Microwave
Much like the addition of a mini-fridge, wine fridge or refrigerated drawer, am in-island microwave lets your family and friends heat up a cup of coffee or snack without disrupting the kitchen activity. Tucking a microwave into an island keeps it off the counter and frees ups more workspace for you. And moving the microwave for above the stove gets rid of the confining visual clutter.
6. Customize Your Workspace by Adding a Functional Kitchen Island
For the home chef a kitchen island with upgrades that help in meal prep is a gift. Specialized surfaces such as butcher block or soapstone provide an area just perfect for rolling out the flakiest piecrust or kneading a scrumptious loaf of artisan bread. A more durable quartz countertop takes a beating and still looks lovely.
A warming drawer in your kitchen island keeps dishes ready to serve. A second dishwasher is ideal for large families and busy home entertainers. Energy efficient induction cooktops are never hot to the touch as they use a magnetic field to transfer heat. Make meal prep so much easier by installing a prep sink in your island. 
7. Trash and Recycling Drawers
Whether double sided or single sided your kitchen island is a handy place to install separate drawers for trash and recycling. Easy-to-use drawers with a foot latch to accommodate full hands means environmentally conscious easy clean-up!
8. Adding a Functional Kitchen Island with Proper Lighting
Every cook appreciates the right lighting to get the job done. Of course overhead lighting is essential to aesthetics and tasks and under cabinet lighting also creates a mood. Combine pendants (But pay attention to the sight lines.), recessed spotlights and cabinet lighting for the best illumination options. 
A Functional Kitchen Island That Meets Your Needs
When adding a functional kitchen island be creative and keep your family's needs front and center. For more information on customizing and adding a fictional kitchen island to your home contact Quad City Kitchen & Bath today. We offer experienced design professionals to help you find the ideal island addition to your kitchen. Don't wait another minute for the kitchen of your dreams.