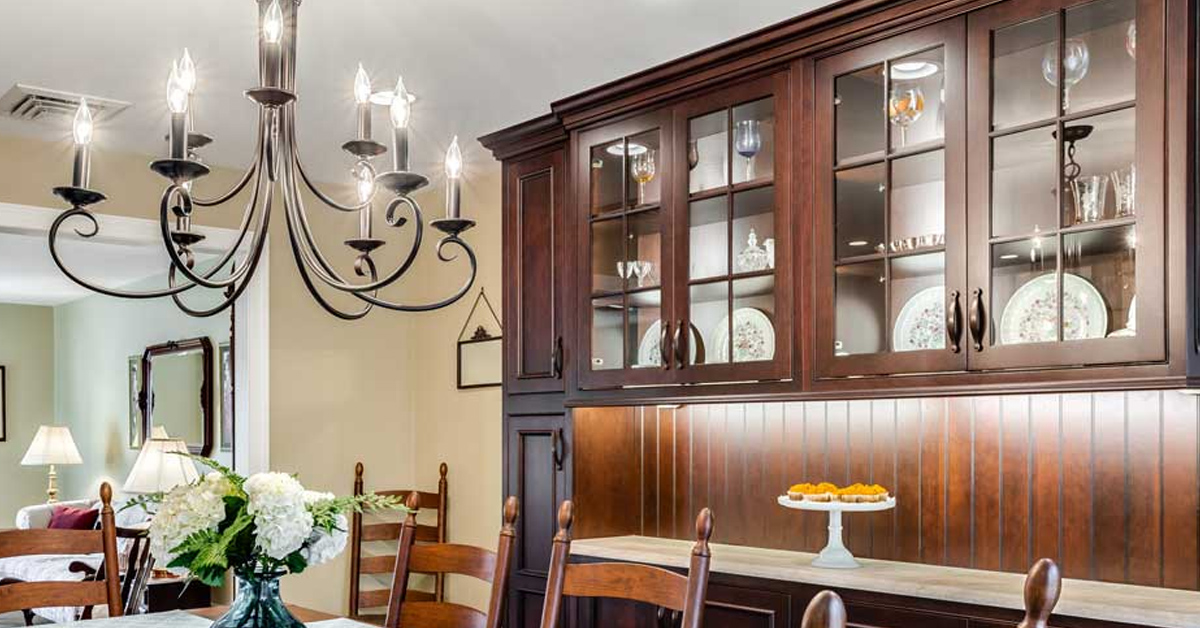 09 Dec

Benefits Of Glass Cabinet Doors In Your Kitchen

If you're considering replacing your kitchen cabinets and updating the look of your home, glass cabinet doors are a wonderful idea. They're stylish, create a display area for your most prized kitchen items and your glass cabinet doors elevate your kitchen to a more elegant, yet trendy, ambience. There are more than a few reasons for the enduring style of glass front cabinet doors. Here we'll look at the benefits of glass doors in your kitchen.
Glass Cabinet Doors Open Up Your Kitchen
Whether your kitchen is small and narrow or dark and dreary the addition of glass front cabinets add light and an open and airy panache to even the tiniest kitchen. Just adding the doors changes the entire personality of your home, adding an illusion of depth and reflecting light to brighten up your space. 
Consider adding a mirror to the back of your cabinets or installing lights to the interior to make your room lighter, brighter and more open. If you only want a few glass front cabinets consider installing them near a window to catch and reflect the sunlight. You'll love how they sparkle.
Let Glass Fronted Cabinets to Define a Space
Do you have a coffee station, butler's pantry or desk area in your kitchen? Use glass front doors to separate that space from the rest of your kitchen. Those dishes and pieces you save for special occasions are both stored and showcased behind glass doors in your butlers pantry. Guests will know right where your coffee cups reside when they can see them through your glass doored cabinet and you can store your small appliances such as food processor or stand mixer above your kitchen desk area. 
They Complement Any Style
No matter your personal design style and preference you'll find glass cabinet doors to reflect it. Mid-century modern? Choose lightly frosted and sleek doors to go with your upbeat and modern looking cabinets. Traditional kitchens benefit from the addition of glass fronted mullion cabinets and the farmhouse style, mullion and beveled panes. 
In addition to flat-paneled doors there are also seeded, textured, frosted, leaded and stained options for your glass cabinet doors. The possibilities are endless and totally customizable to your taste.
Glass Cabinet Doors Are Surprisingly Easy to Clean
Cleaning the glass on your new cabinet doors is far easier than you may think. A spray of glass cleaner and a thorough wipe and your finished. Unlike solid wood cabinet doors your glass fronted cabinets don't succumb to a build up of grime and grease. And as long as the inside is tidy and presentable your glass cabinets will bestow a cleaner appearance to your kitchen.
You Can See What's Inside Your Cabinets
This might sound obvious but glass doors on your kitchen cabinets let you peep what's inside. This means meal prep is more efficient for you and your guests can find that plate, bowl or gravy boat without going through every cupboard. Because you, and your guests, can see what's inside your cabinets you can display your prettiest pieces. 
Another benefit of being able to see inside your cabinets? You can use them to showcase seasonal displays. You can utilize your glass cabinet doors to level up holiday decor. 
Glass Doors May Not Be For Everyone
Of course glass fronted cabinets aren't for everyone. They are fragile and if you are prone to stashing items that aren't so tidy in your cupboards, or you have a busy family and no time for keeping your cabinet interior impeccably neat you may want to reconsider. For those home chefs who create sumptuous meals several times a week steam, grease and food splatter might mean you're continually cleaning your glass cabinet doors. 
But, if you're sold on the look of glass cabinet doors but don't know about the upkeep choose one area of your kitchen cabinets in which to install your glass fronted cabinets. Perhaps the cabinet where you keep your holiday ware or everyday crustal. If you lack a formal dining room a glass door cabinet is a wonderful way to showcase your good china. All while keeping everyday "stuff" out of plain view. 
Kitchen Design Experts
If you're considering installing glass cabinet doors in your Quad Cities kitchen contact Seiffert Kitchen & Bathroom. Our design specialists will guide you in the right direction. Whether you want all glass or just want to change up a few cabinets to open your space let us help. Contact Seiffert Kitchen & Bathroom today and get ready to add some sparkle to your home.