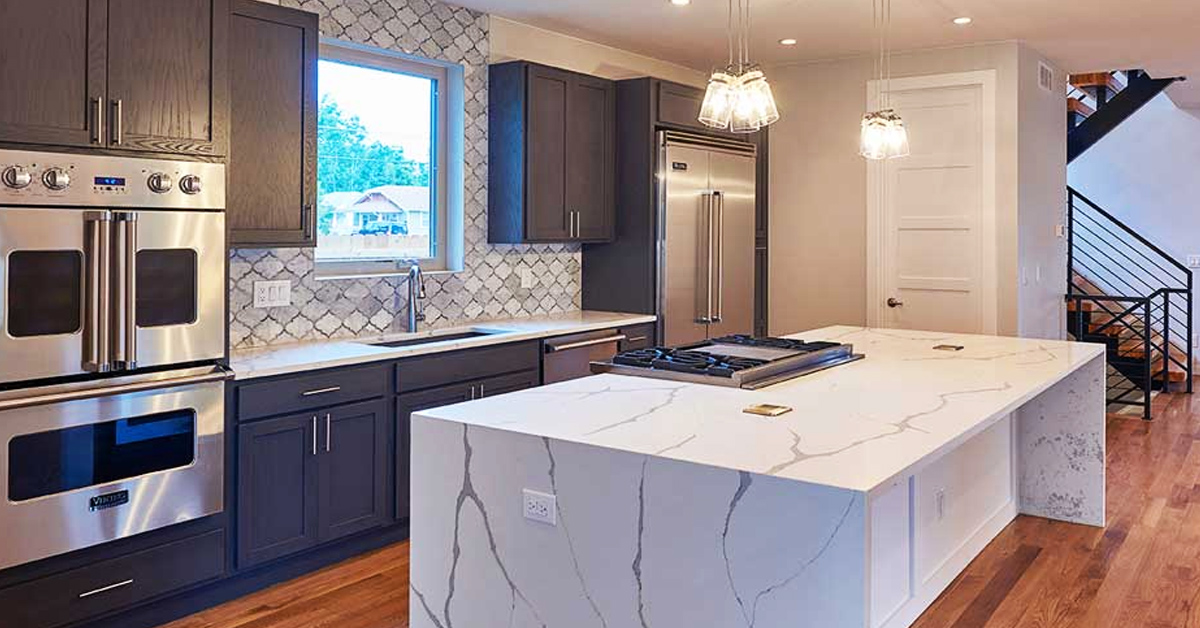 14 Oct

7 Secrets for Easy to Clean Kitchen Cabinets

Kitchen cabinets are essential to an organized and easy-to-use kitchen. Everything you need is within easy reach and your cabinets help keep your kitchen looking "company worthy". With the kids back in school and the holidays fast approaching now is the time to do a thorough cleaning of the kitchen and get ready for all the hustle and bustle the heart of your home is sure to have in the weeks ahead.

Keeping your kitchen cabinets clean is something most homeowners in the Quad Cities struggle with. Busy kitchens make messes, that's a fact. Somewhere along the line your kitchen cabinets will see splatter, a build-up of cooking debris and the usual dust and grime. Our kitchens are meant to be used. and they are often a magnet that draws everyone in. Maintaining the neat and orderly appearance is necessary. Doing so with ease is a big plus!

7 Tips to Easy to Clean Kitchen Cabinets

Cleaning your kitchen doesn't need to be a major event. Instead of spending precious hours scrubbing and cleaning your kitchen cabinets why not adopt these tips for keeping your cupboards and drawers clean and sparkling like new?
Select a Simple Style with Minimal Detail: Ornate cabinets with raised panels and attract dust and debris. Simple styles of kitchen cabinets, such as traditional Shaker, sleek contemporary or flat panel are far easier to clean and keep clean. Opt for a stain or paint that has a glaze. This fills in any wood grain cracks and corners that attract dust.

 
Choose Sleek Flush End Kitchen Cabinets: When you select your kitchen cabinets you're have the option for matching ends or flush ends. Matching ends bring a certain amount of elegance to the project but like your cabinet doors they require maintenance. Flush ends are plywood made to match the color of your cabinetry. The smooth and sleek surface is quicker to clean.
Keep it Simple: Even if you only use your kitchen as a gathering spot and not so much for cooking you do want it to be easy to clean. Ornate designer details such as corbels, crown or light rail molding, decorative shelving or decorative legs are touches that add to your kitchen style. However, a lot of these design trimmings come with a cost for maintaining the look. Dusting the trim is time-consuming and tedious but needs to be done regularly. Another option is to incorporate designer accents in other ways. Upgrade your lighting, choose on trend colors or a showy dining table.
Stain over Paint: Both stains and paint have pros and cons. They both show fingerprints and food splatter but, depending on the finish, stain is much easier to keep clean. Additionally, stain is easier when it comes to touch-ups. Should the surface of your kitchen cabinet get scratched it's easier to spruce it up with stain. Many kitchen cabinet manufacturers provide touch-up kits for that very reason.
Beef Up Your Hardware: Flush cabinets have a certain appeal but if you want to reserve the look of your drawers and cupboards add knobs and drawer pulls. Not only will the addition of drawer pulls and cabinet knobs limit fingerprints but they slow down wear and tear. And today's selection of knobs and pulls is plentiful. It's easy to upgrade with stylish pulls and knobs for your kitchen cabinets.
Stay Away From Glass Door Fronts: Farmhouse style and vintage looks may be all the rage right now but the practicality of glass-front cabinets in a busy kitchen is not all that. Especially when it comes to cleaning all those panes. If your glass cabinet fronts have mullions expect to attract even more dirt and dust along with the smudges. And don't forget that glass doors mean you must keep everything in the cupboard neat and tidy.

 
Minimize the Open Shelving: Open shelving is another trend that designers embraced over the past decade. Open shelves and floating style shelves provide a great way to display your favorite stylish cookware and the like. But, the open shelves require more time-consuming cleaning. Not only do you need to clean the shelves themselves but the items displayed on the open shelves as well. For all the decorative panache open shelves bring to the kitchen the trade off in maintenance isn't worth it for most busy homeowners. Opt for other decorative touches reflected in your lighting and appliances, dining table and accessories.
More Time to Enjoy
Life is too short to be bogged down maintaining your kitchen day in and day out. When you proactively choose quality kitchen cabinets that are easy to clean and make your kitchen appealing and welcoming you make life easier. 
At Seiffert Kitchen & Bath we offer our customers a wide selection of kitchen cabinets that are as beautiful as they are durable. Our design services is ready to assist you in choosing the right style for your home that's lovely, functional and easy to clean. Contact Seiffert Kitchen & Bath today.