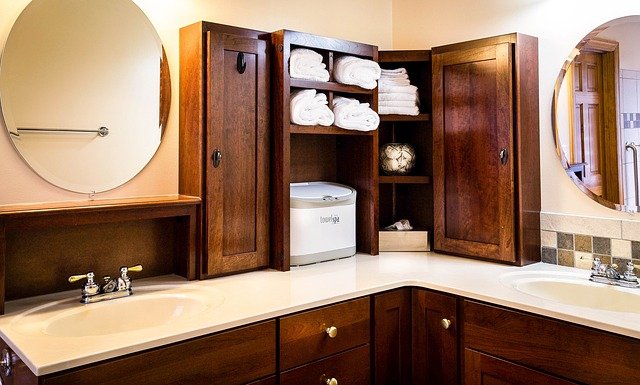 23 Dec

How To Transform Your Bathroom With Custom Cabinets

If you're looking for a beautiful way to transform your bathroom consider replacing your standard cabinets with gorgeous custom cabinets. The addition of custom cabinets elevates any room, but stunning customized cabinetry in your master bath, guest bath or even the powder room create a high-end vibe that extends throughout your home. 

Custom cabinets are an investment in your home. Whether you plan to stay or consider selling in a few years your custom cabinetry doesn't just transform your bathroom. When you install these essentially one-of-a-kind beauties in your bathroom the quality ensures they'll be around and looking great for the next five decades. 

Buyers love custom cabinets too. They provide a panache you don't get with prefab cabinetry and show you care about quality in your home. The two biggest "wants" for new buyers are stylish kitchens and bathrooms. Your custom cabinets transform your bathroom and bring a return on your investment.
Personalize Your Space and Transform Your Bathroom with Custom Cabinets
Your home is a reflection of you. It comes across in your decor, your sense of style and the quality of your home furnishings. Today's trends embrace everything from lavish to spartan, mid-century modern to country French to Scandinavian and farmhouse. What makes you happy and puts your personality into your home? A custom designed space.
Transform your bathroom into your personal haven and retreat when you select custom cabinets. Not only are they available in literally any style, stain and finish you desire but they are unique and tailored to suit you. And your custom cabinets look amazing with classic quartz or granite countertops.
Provide the Storage You Need
One of the top items homeowners in the Quad Cities and probably the world complain about? Storage! There's never enough available space to ensure "a place for everything and everything in its place" is there? When you create and install your custom cabinets you transform your bathroom into an area with ample storage. Suddenly your countertops are free from the paraphernalia of daily life and shining in all their uncluttered glory.
Floor-to-ceiling cabinets provide a space for linens and towels, corner cabinets are handy for items you don't need everyday and a large vanity with deep drawers and spacious under-sink cabinets provide a place to stow your beauty and bath products. The open and airy vibe created by your uncluttered space allows you to transform your bathroom into the spa-like room you deserve.
Transform Your Bathroom to Ensure the Perfect Fit
Customized cabinetry is tailor-made for your space. Everyone has that awkward corner or gap in their cupboards where what is supposed to fit just doesn't. Those tight corners or impossible-to-open doors are a thing of the past when you opt for custom cabinets. With customized cabinetry you will transform your bathroom into the picture perfect space you've longed for. 
Custom cabinets allow you to take advantage of every square inch of your bathroom and do so in style. The result? A masterpiece master bath that's ever so appealing, a guest bathroom that's inviting and efficient and a powder room with more storage space than you ever dreamed you could have. 
Transform Your Bathroom and Fall in Love With Your Home
Old cabinets and builders grade easily date your entire home. When you transform your bathroom with custom cabinetry your home starts looking new again. The formerly tired looking master bath now feels like a spa, your guests are impressed with your gorgeous new bathroom and your powder room is filled with next-level dazzle. Who wouldn't fall in love with those transformations?
The Help You Need From The Name You Trust
For more on how to transform your bathroom with Hugh quality, stunningly beautiful custom cabinets contact the experts and Seiffert Kitchens & Bathrooms. We are your go-to partner for everything you need to transform your bathroom or kitchen. We have the professional experience and know-how that helps you get the job done and start enjoying your most personal space in style. 
Image: Pixabay