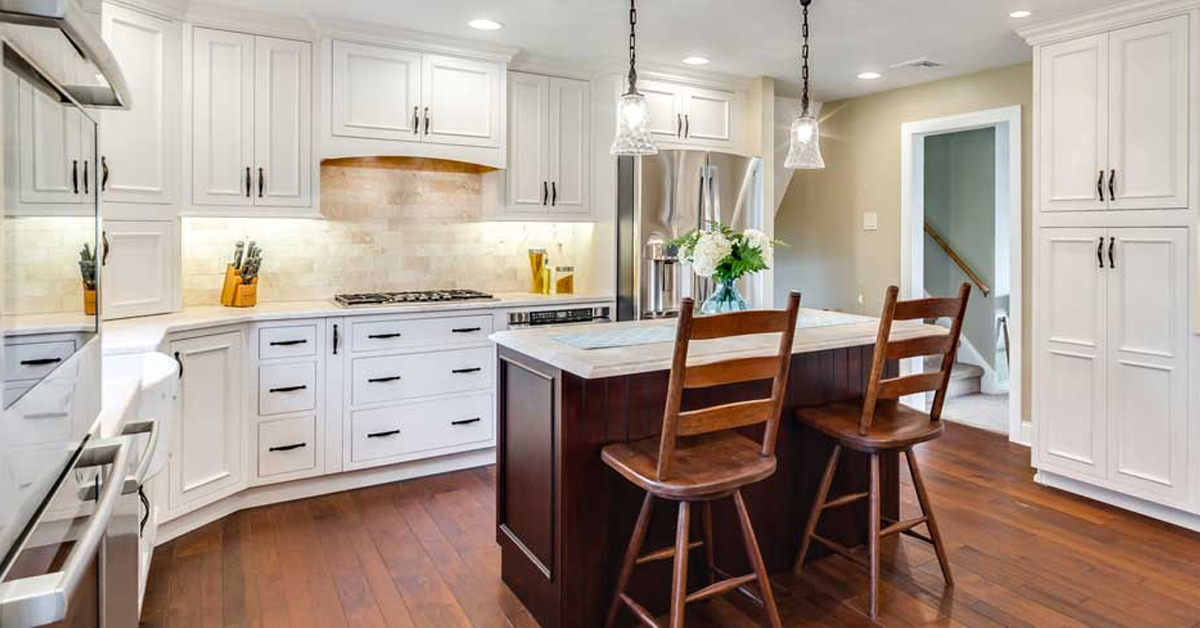 11 Nov

How to Upgrade Your Outdated Kitchen in A Weekend

Are you tired of your outdated kitchen? Do you wish you could wave a magic wand and transform the heart of your home into a stunning space that makes you proud? Do you have a free weekend? If you answered "yes" to these questions then we have a plan that's sure to make you excited!

It's possible to upgrade your outdated kitchen in a weekend. We're not talking a total renovation, however by incorporating these easy-to-DIY projects you're able to upgrade your outdated kitchen yourself (or with a little help if you need it!) and the results are sure to please. Here are some ideas to upgrade your outdated kitchen in just a few days' time.
The Projects that Upgrade Your Outdated Kitchen
For any major upgrades such as new countertops, cabinets and flooring its best to have a bit more knowledge and experience with things like power tools and precision measuring than the average Quad Cities homeowner. 
For those who are not as comfortable with a major DIY project there are easier upgrades you can do in a weekend. All that's necessary is a little elbow grease and some willingness to take your time and review the process. You've got this!
Countertops to Upgrade Your Outdated Kitchen
Without a doubt one of the most dated items in most kitchens is the countertop. Old laminate or dinged, dulled, scratched granite take the dazzle out of any kitchen real quick. For impressive changes that upgrade your outdated kitchen install new countertops. 
As long as you're replacing old countertops and not changing the layout of your kitchen upgrading is definitely DIY-able. For an experienced handyman (or woman) this upgrade is easily accomplished in a weekend. 
Cabinets
For most homeowners simply painting your cabinets is enough to dazzle. Trendy colors like teal, ocean blue, hunter green or a sunny yellow change the entire tone of your kitchen. If your current cabinets are a natural wood and you like that look consider stripping and re-staining them in a lighter color. You can even go with a white or dove grey and jump on the farmhouse trend train.
Be aware that painting you cabinets is a time consuming and detailed process that will likely take the entire weekend. Be sure to review the particular process and don't attempt to cut corners or shorten the process. 
For those weekend warriors who feel comfortable replacing your cabinets it is doable in a weekend, provided you have some friends to call on for help. But, given the investment you'll make in new cabinetry, unless you are a contractor by trade you really should consider professional installation.
New Flooring will Upgrade Your Outdated Kitchen
Much like old laminate countertops vinyl flooring in the tried and true mosaic pattern is oh-so-tired. Upgrade your outdated kitchen in a day or two by installing your own flooring. Depending on the type of flooring you select and your level of experience it really isn't as difficult as you may think! 
Todays peel and stick luxury tile is available in all the trendiest styles. From wood look to faux marble to herringbone tile and so much more this easy-to-install flooring option is the perfect DIY project to upgrade your outdated kitchen in a weekend. 
For laminate, hardwood or masonry tile a professional is in order. That is, unless you have direct experience installing that type of flooring.
Hardware
Sometimes a simple change like updated hardware throughout your kitchen changes the look overnight. Replace your old knobs, hinges and cabinet pulls with trendier versions. Select matte black finishes to go with your new white farmhouse kitchen cabinets or a bright brass or gold with  teal or ocean blue cabinets. Mid-century modern light blond wood cupboards call for vintage look mid-century style drawer pulls and cabinet knobs. 
Don't forget about any doorknobs in your kitchen such as your pantry or basement door. If you replace with matte black consider replacing your door knobs with the same to promote that same aesthetic throughout. 
Backsplash
A new backsplash is as easy as peel and stick. For the limited experience DIY homeowner these peel and stick tiles are relatively easy to do and look every bit as good as the mounted and grouted version. 
If you prefer to mount your own tile there are a few different methods. You certainly can go with the separate tiles and adhesive, or mastic, but it may take you longer than a weekend. After you mount the tiles they need to set for at last 24 hours before you apply the grout. Depending on the type of tile you wish to use you will likely need a tile cutter. The measurements must be very precise.
Paint
Finally, the easiest way to upgrade your outdated kitchen is by painting your walls. Sounds simply right? Paint does so much to change the aesthetic of a room. Go from a bold, possibly dated, color to a white or grey and suddenly the room looks larger. Add some texture and you have a rustic or French country look to your walls. It might not totally upgrade your outdated kitchen but it will certainly refresh the room and start your wheels turning toward your next kitchen upgrade.
 We Have What You Need
For help with your kitchen upgrade project contact Seiffert Kitchen & Bath. We have a wide selection of countertops and kitchen cabinets to suit your needs and your budget. Our design team will help you realize your potential and your limitations when it comes to DIY. Clear your weekend and let's begin!