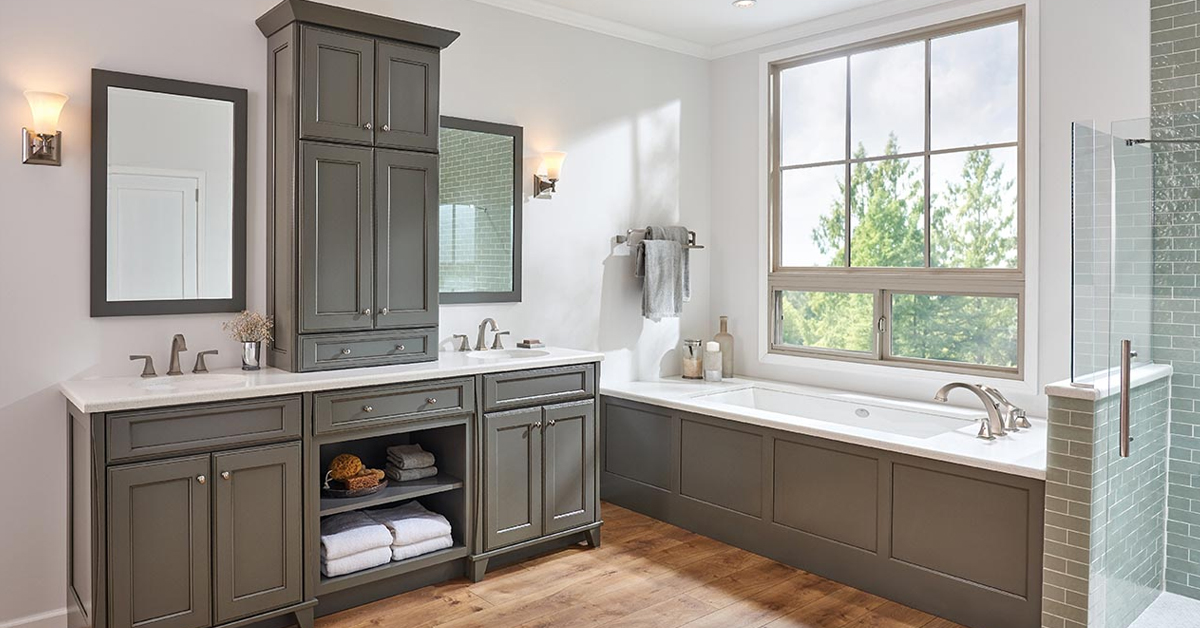 02 Sep

5 Things To Consider Before Your Bathroom Remodel

A bathroom remodel is one of the more exciting renovations you can undertake. Transforming a dated, convenient or lackluster room into something you've dared to dream about breathes new life into your home and is a source of pride. And upgrading your bathroom gives you a pretty fair return on your investment.

You probably have a design in mind fr your bathroom remodel. You've likely pored over home decorating magazines and created your Pinterest board. But before you get your heart set on the end result of your bathroom remodel there are a few things you must first consider. 
Your Bathroom Remodel: 5 Things to Consider
The last thing you want in a bathroom remodel is finding out mid-project that the ideas you have won't work. The task of taking your dream bathroom and making it a reality is easily fraught with frustration when you approach it haphazardly. Here we've put together a list of the top 5 things to consider before your bathroom remodel.
1. Which Bathroom
The type of bathroom you wish to renovate makes a big difference. Is it the master bathroom? This is a far more personal space than a guest bath or powder room. The time and effort you put into a bathroom remodel in your master is much different from upgrading a kids' bath or guest bathroom. In a master bath you'll probably want dual sinks, more storage space and a separate water closet/commode room. In a child's bathroom remodel functionality takes center stage with style being secondary. A guest bathroom remodel is typically less involved, as is a powder room. 
2. Consult a Design Specialist
Bathroom remodel projects come in all different degrees. You might simply want to update old fixtures, flooring, paint, etc. or you may decide you want a larger space and need to knock down a wall to do so. Whatever your plans your layout and the design you have in mind need to match up. In order to ensure you end up with a functional, ahh-worthy and stunning space that closely mimics your plans you need an experienced designer. This is someone who understands plumbing codes and structural issues that might arise, yet also has a grasp of your own design ideas. Once you meet with your design specialist all the pieces of your beautiful new bathroom will fall into place.
3. Don't Just Design for Today
A bathroom remodel is an investment in your home. Get the most out of your investment by considering the future when implementing your design. Will your family be growing in the next few years? Consider child-friendly accouterments such as no-slip looking and security bars. Those items are also handy should you become a caregiver for an elderly parent or you hope to age in place in the coming years. Empty nest looming in the near future? Think you may downsize? Remodel with marketability in mind.
4. Decide on The Must-Haves
Do you hustle around in the morning while getting ready for the day ahead? Are you someone who enjoys a nice, relaxing bath at the end of the day? Does someone in your home have mobility issues? 
If you like to use your bathroom as a personal spa focus on a soaker tub or a dramatic shower with natural stone and a rainfall shower head. For homes with adults with limited mobility a walk-in shower is a good idea and for small children a bathtub is a must. Obviously your needs will determine a lot about budget, materials and length of project.
5. Often Overlooked Areas of to Consider
Certain features of a bathroom tend to fade into the background when you're deciding on the mrs dramatic items like a spa-like shower or deep soaker tub. While maybe not as exciting,  these areas must be included in your update as well. 
Lighting: Good lighting will make or break a bathroom. Well-lit, open and airy bathrooms are much more appealing than dark and dreary rooms. Adding a window may not be a possibility but a tunnel light or even sky light help bring more natural light into the room. New fixtures and recessed lighting upgrade your bathroom as well.
Storage: Storage should never be an afterthought. Whether your family is growing or your a solo act you'll always need more storage than you think. Add a linen closet and under-vanity storage as well.
Flooring: When you replace your flooring go for durability. There are so many styles to choose from today and most of them have durable options. Also, given the winters we have in the Quad Cities think about heated floors.

 
Ventilation: Proper ventilation is a very important consideration in a bathroom remodel. Your bathroom gets pretty steamy. When moisture builds it becomes a breeding ground for bacteria as well as unsightly mold and mildew. Avoid the issues caused by excess moisture before they hit by installing build in vent fans to remove excess moisture from the air.

 
Upgrade Your Water Heater: One of the most overlooked item in a bathroom remodel is your home's water heater. If you're installing a soaker tub or high-end shower consider your water heater's capacity and think about upgrading. It's better to do it now than to long for that relaxing bath in your new, deep bathtub and not be able to accommodate.
Contact A Professional 
Before you begin your bathroom remodel, or any remodel in your Quad Cities home, contact the professional design team at Seiffert Kitchen & Bath. We help you turn your dream bathroom into a reality.