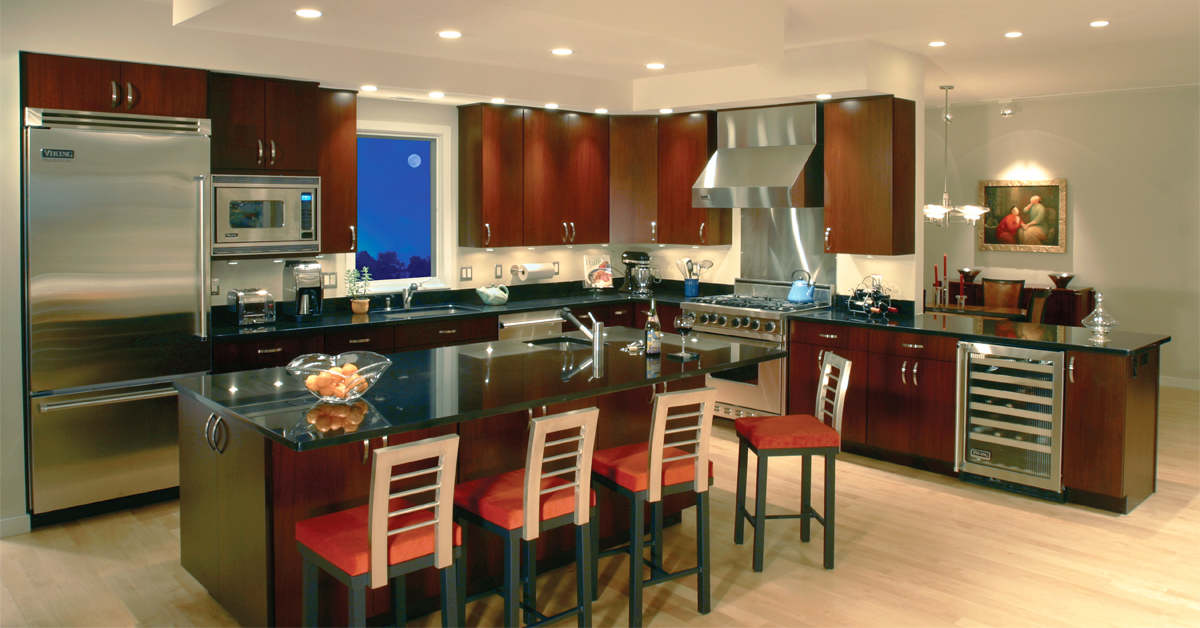 08 Apr

7 Signs Your Kitchen Is Ready for a New Design

Is your kitchen ready for a new design? While a kitchen renovation is a major undertaking, sometimes you just can't ignore the need. You compensate for a lack of counter space, outdated appliances or cabinetry that's falling apart-until the day you just can't deal with your tired old kitchen any longer. Sound familiar? Here are seven signs your kitchen is ready for a new design.
7 Signs You Need A New Kitchen Design
There are many ways to update an existing kitchen so that it's functional and beautiful, especially if you plan to stay in your current home. Today's kitchens are the focal point and main gathering space of the home so even if you plan to put your home on the market in the near future and new kitchen design ups the resale value. Here are some pretty telling signs it's time for a new design for your kitchen.
Your Kitchen Appliances are Outdated and Malfunctioning:

If you haven't updated your appliances in awhile it may be time. In addition to their unsightly appearance, your old appliances are likely driving up your energy costs. If it's been more than a decade since you've replaced your dishwasher, stove or refrigerator do it now. The newer, more energy efficient appliances will pay for themselves in no time. And if you're still making do with old and outdated appliances the rest of your kitchen is probably in need of an update as well.
No Storage or Prep Space:

Does cooking require you to move everything off of your countertop just so you have room to prep? Do you find yourself stashing the counter clutter before guests come over? If so your kitchen is ready for a new design. Incorporate some new cabinets into your workspace or try some trendy floating shelves. Utilize that space under the island or peninsula for storage drawers or additional cabinets. Think big and install another counter in your kitchen. There's no need to rearrange your kitchen every time you want to prepare a meal or entertain guests.
Your Lifestyle Has Changed:

Whether you're adding to your family or anticipating an empty nest, your kitchen should support the needs of your lifestyle. A family needs kitchen space that is functional and efficient. Meal bars are a popular spot to work on homework or have a quick after-school snack. Once your children go off to college or start "adulting" your kitchen can be an inviting space for laid-back entertaining. Your kitchen is meant to change with your needs.
No Flow, Awkward Layout:

The older the kitchen the less functional and efficient the flow. Haphazard designs make the workspace seem crowded and an awkward layout causes you to look longingly at the take-out pizza menu tacked to your fridge. A few simple changes incorporated into your new design can eliminate the interruption in flow surrounding the workspace, and you'll be amazed by the results.
The Lighting is Poor:

Often times, especially in older kitchens, the lighting is terrible because it was, seemingly, an afterthought. Proper lighting is essential to the enjoyment and function of your kitchen space. Statement pendulum lights over your peninsula or island add tremendous style as well as brighten your workspace. Recessed ceiling lighting and lights under your cabinets aren't just for function but add to the appeal of your kitchen.
Your Kitchen is Difficult to Keep Clean:

Does it seem like no matter how much time you spend cleaning the kitchen it just doesn't look as sparkling as it should? Worn countertops, years of cooking grease build up on your cabinet doors, stained grout and faded flooring will never appear clean. New surfaces require a lot less maintenance and are so much more attractive.
You Lack Pride in Your Kitchen:

If you've lost that loving feeling towards your kitchen then it's absolutely time for a new design. Your home is your castle and a beautiful new functional kitchen will have you beaming with pride. Outdated appliances, dim lighting and faded linoleum might seem like cosmetic issues but really a beautiful kitchen is so much more than looks. Create a kitchen with that wow factor you've been missing, you'll want to spend more time there and your home value will skyrocket.
There's no reason you should have to put up with a kitchen that is "less than." If you relate to any of the above signs then your kitchen is ready for a new design. In fact it's probably long overdue.
Your Source for Your Kitchen's New Design
Once you have your new kitchen in place, you'll wonder why you put up with that tired, old kitchen space for so long. Seiffert Building Supplies is your go-to headquarters when your kitchen is ready for a new design. Our full line of custom and semi-custom cabinets and countertops has something to suit every homeowner. We carry many options for you to check out in our Quad Cities showroom.
We also provide custom design services with our in-house interior experts. Whether you're interested in a major renovation or simply an update of your existing kitchen we can help. Once your project is underway, we provide expert project support. If your kitchen is ready for a new design contact us today.