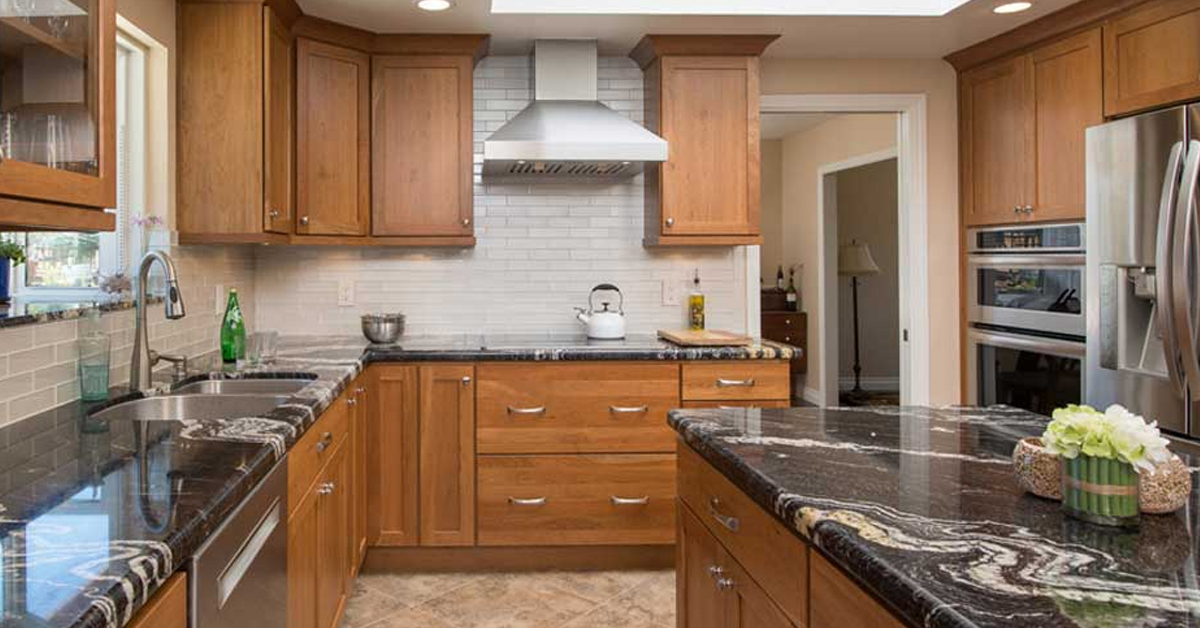 05 Nov

Custom Countertop and Cabinet Trends for 2021

Custom countertops and cabinets are the hallmark of a true cook's kitchen and add definite appeal for any home chef. Your kitchen is where you spend a good amount of your time. When you welcome family and friends into your home your kitchen seems to be where everyone ends up. And that's fine! It's why the kitchen remains the heart of the home.

Like many in and around the Quad Cities these days you're probably spending most of your time at home. Over the course of the pandemic, many a home chef has discovered the pleasure of baking bread and tackling time-consuming recipes with success.

Unfortunately, there are those homeowners who've discovered their kitchen isn't all that it could be. Dated design, uncomfortable workspace and not nearly as cook-friendly as they would like.

Having the ideal cook's kitchen need not be a dream. As you use your prep and cooking space more frequently you realize custom countertops and cabinets are a necessary upgrade and we're here to help you. Here are the latest trends in custom countertops and cabinets to bring your dream kitchen to life.
Trends in Custom Countertops and Cabinets
The biggest trend in custom countertops and cabinets is functionality that looks good. Not only do you want a kitchen that responds to your needs, but you want a kitchen that has some personality to it.
The materials available today allow your custom countertops and cabinets to reflect a variety of styles and endless design possibilities. Today's kitchens are more organized and functional. Eco-friendly composites, maintenance -free quartz and wood cabinetry made to your specifications are just some of the components of a family-friendly kitchen with high-end appeal.
Quartz Countertops
Quartz has pulled out in front of granite as the preferred material for countertops. Unlike its predecessor, quartz is non-porous and requires no regular re-sealing. This means it is resistant to stains and is highly hygienic. Quartz appeals to homeowners because of its durability and beauty. While quartz is available in many colors, patterns and finishes the matte finish is the popular trend going into 2021.
Composite
For those homeowners who want custom countertops and cabinets yet are concerned about their carbon footprint composite countertops are the answer. Composite counter material is made up of 75% recycled glass and contains no plastic resins or emits no VOCs. Composite countertops are highly durable. With an array of options for color and style the composite option offers homeowners elegance without sacrificing eco-responsibility.
Multi-Height Counters
Countertops that are all one height, the standard being 34"to 36", are not a practical option for today's home chef. Counters in 2021 are Multi-functional and need to correspond with their purpose.
For instance, baking counters are becoming more popular. Slightly higher than the standard counter they offer a more comfortable work space on which to roll out dough, knead bread, or simply prep meals. Cooktop counters can also be slightly higher, depending on your preference, and just as long as they comply with local building codes.
Of course dining counters, also known as breakfast bars, are expected to be higher than the prep area counters. The standard height for dining counters is anywhere between 36" and 42".
Natural Wood Cabinets
While white is still a popular option for homeowners, the trend for 2021 is natural wood for custom kitchen cabinets. Wood is classically beautiful and custom cabinetry showcases this cabinet material in the best possible way. Wood's natural beauty complements any style of kitchen from mid-century modern to farmhouse.
Recycled and Reclaimed Wood
Custom countertops and cabinets need not rob the environment of non-sustainable materials. Many cabinetmakers today are seeing the value in utilizing reclaimed wood. The beauty of using this type of material is todays cabinetmakers are gifted in creating exceptional and stunning products with responsibility in mind.
Color Trends
The palette for your custom countertops and cabinets is entirely up to your personal style. Bold colors make a modern statement, while muted colors, light wood and white counters are popular in farmhouse style kitchens.
If you choose to go with a color in your cabinets contrasting upper and lower cabinet colors are still a popular trend. White, or light countertops are just as popular as ever. Countertops that are bold jewel tones will be seen more and more in the coming year.
Update Now For Your Dream Kitchen
A kitchen update is never a bad idea. If you want to be on trend and reflect your personal style in 2021 contact the design team at Seiffert Building Supplies. Our professional designers will assist you in choosing the right materials, colors and trends for your custom countertops and cabinets, so you can continue enjoying time in everybody's favorite room in the house.