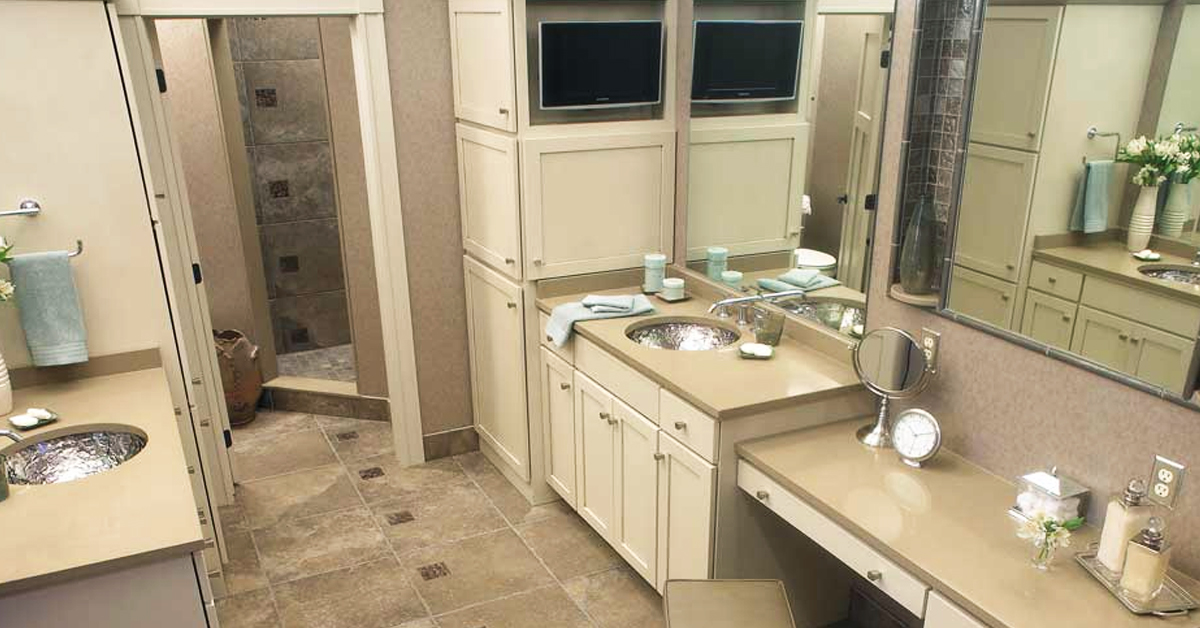 16 Sep

Optimizing Your Bathroom Storage Space

Organizing your home's bathroom storage space probably isn't most people's idea of a good time. But when you take the time to make sure you have a place to stow your stuff where you can easily find it you won't have any regrets. Optimizing your bathroom storage space may not change your life, but it will definitely make your life much easier.

No matter if you're organizing a powder room or a master bath it's a space that should appear neat and tidy. Your master bath should be your own personal spa, the place where you go to escape the remains of the day and ease yourself into a relaxed state of mind. Clutter is only going to detract from that!

Your children's bathroom needs to be ready to handle the chaos that is bath time or getting-ready-for-school time. And a powder room or guest bath should offer your guests a space that meets and anticipates their needs. Tall orders for what's often a small space. 
Ideas For Bathroom Storage Space
So what is the answer to solving your bathroom storage space dilemmas? Here we take a look at some clever and creative ideas for optimizing your bathroom storage space without compromising style. Whether you need ideas for a large and spacious master bathroom, a children's bath or a guest bath or powder room we've got you covered. 
Look Up
If you have some unused space above your bathroom door install a shelf for extra towels and linens. Just be sure to keep a step stool nearby.
Shower Caddy
A shower caddy that fits over the shower head is the perfect space to store necessary bathing items like a loofah, shampoo, conditioner and body wash. You can even repurpose a compartmentalized caddy to store children's bath rime toys or hang it on a hook outside of the tub area for those bathrooms that lack the space for shelves or cabinets. 
Repurpose a Bar Cart
A bar cart is a handy spot to store those items that would otherwise go in a linen closet. Extra towels can stack on the lower shelves while things such as cotton balls and swabs in decorative containers can sit atop the cart next to a potted plant. You can store your hair products and makeup on the cart. Additional toilet paper, soap, lotion and any other bathroom accoutrement are easily stored on the affordable bar cart.
Hooked On Bathroom Storage Space
For bathrooms that are short on closet space or counter area, and walls don't lend themselves to shelving, hooks offer a place to hang towels, robes and a storage caddy. Opt for hooks that are decorative and functional. 
Add a Ladder
Blanket ladders are trendy in living rooms, bedrooms and family rooms around the Quad Cities. Why not use a blanket ladder to add to your bathroom storage space? Prop one in the corner and hang your towels on the rungs. A blanket ladder will hold many more towels than a standard towel bar. Optimizing your bathroom storage space while making a trendy fashion statement.
Vanity Thy Name is Storage!
Even the smallest bathroom has to have a sink. Don't waste the space beneath your bathroom sink by installing a pedestal basin. Instead opt for a vanity that has drawers or a cabinet beneath the sink. Not only does it add style to your bathroom, but a vanity provides storage where there was none.
If you need additional bathroom storage space in the master or larger bath, consider replacing your current cabinet and countertop combo. Install state of the art cabinetry or customized cabinet for all the bells and whistles. Soft touch drawers are deep enough to hold toiled and additional toilet paper and adding counter space allows you to put your must-have items in decorative baskets and containers so they're close by.
Add a Shelf
If a vanity isn't possible, add shelving around your sink. Is there space beneath? Use that area to install some shelves to store containers with the necessities. Above your toilet is typically some wasted space. Consider an over-the-toilet shelving unit or install stylish floating shelves for added bathroom storage space.
Medicine Cabinet
Remember when all bathrooms seemed to have medicine cabinets above the sink? Many still do! A medicine cabinet is ideal for storing smaller items and it does double duty as a mirror. If your bathroom space allows for it, you can install a medicine cabinet with shelving beneath. It may not be adequate for larger items, but you'll have a place to store the small clutter that finds its way to your bathroom sink and countertop.
Make More Space
Finally, if you need additional bathroom storage space, create it by opening up your bathroom. Renovating and remodeling your bathroom allows you to incorporate all of the space you need. A linen closet or larger vanity space, cabinets above and below your sink, whatever it is you need to make your life easier. 
At Seiffert Kitchen & Bath we help you solve all of your bathroom storage space dilemmas. Whether you want to incorporate built-in storage, add a functional vanity or reimagine your entire bathroom we can help. Our design team leaves nothing to chance and we work together with you to achieve the results you want. Contact Seiffert Kitchen & Bath today and we'll help you find a way to optimize your bathroom storage space and make your life easier.